Salam,
Naufal got his first hair cut in KK today and guess what, he was crying out loud!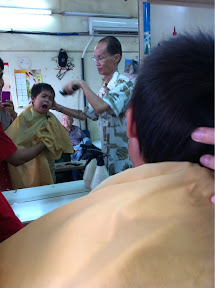 That was a picture of him before the barber started using the machine on his hair..
Then, he cried non stop until the cut was done. He normally get his hair cut in Seremban, a barber's shop which is so near to my house that we could even walk, run by a 'mamak'. But since his hair is getting messy n he sweats a lot, we decided to get a cut in KK instead - his very first time. Unfortunately in KK there's no kedai gunting mamak so the only option we have is kedai gunting apek.. Hehe
Cian dia, kelakar pun ada.. Hehe.. Nangis betul2 ni..
Ok hunny bunny, you'll get use to it, next time kita potong kt KK je k.. Hehe
- Posted using BlogPress from my iPhone
Location:KK bah