Salam.
Hi. I bet most of you now are spending your holidays with loved ones, family & friends. Hubby is at offshore and my fellow friends going for trips to places that I can't obviously go along. Toilet is my bestfriend now and I can't afford to join a long road trip from Sabah-Brunei.
Anyway, I should have posted this entry weeks ago, but you are already aware of how slow my internet connection is.
Still remember Farah? The girl who is on attachment in our region and surprisingly my 2nd cousin? Last Friday was her last day in KK. So we planned for her BBQ Farewell party and celebrating birthday of our friend, Shikin few weekends back. Alhamdulillah, the weather was fair that morning, although is has been raining the day before. So as usual, the fav spot was at Tanjung Aru. Somebody suggested at a waterfall or Karambunai (quite far to drive), but as we have 2 pregnant ladies in the group, so we end up at Tg Aru instead. I cooked mee hun + chicken, others bawak ikan, jagung, keropok, puding and etc.
~ikan pari..sedap gilerr..~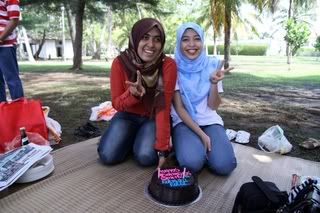 ~Shikin the birthday girl & Farah~
~dgn hadiah2 yg diaorang dpt.. Shikin ni giler katun2 jepun sket.. pastu dia suka mainan2 cam robot and etc.. mechanical engineer lah katakan.. tp jgn memain, hebat ni Shikin ni.. (Shik, ko nyer performance bonus last year blum belanja aku lagik.. hehe.. this year kalau dpt lagi kena double lah k..) cuba tgk gambar yg Farah pegang tu.. time tu kitaorang g tgk wayang, pastu kat luar tu ada ular kalau nak amek gambar.. tp of course lah I didnt join them..~
~chocolate cake by secret recipe..nyam2.. I think I had 2 portion.. hahaha..~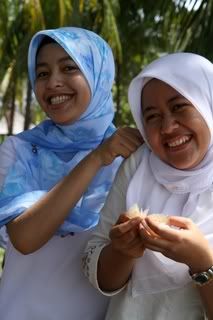 ~Farah suka cucuk telinga org, especially Kujai.. geram tul.. dulu masa duk sebelah dia kat Level 1 time ofis tgh renovation dia suka jentik.. aku pun apa lagi, cubit lah dia balik.. sampai dia serik nak kacau.. hehe~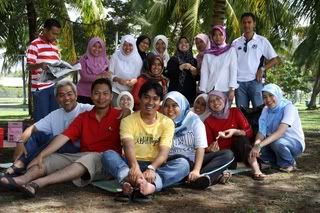 ~all of us..OMG I looked so big in this photo.. I think it was the tudung.. hehe~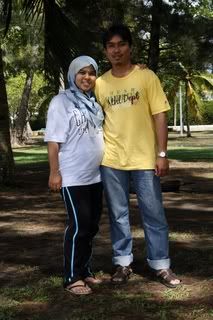 ~me @ 4 months and hubby~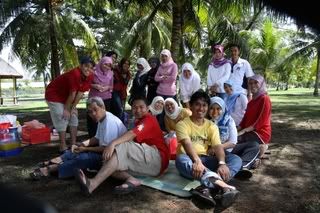 ~ us again..~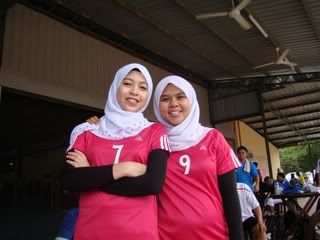 ~ me @ 2.5 months kot and Farah~
I think from most of the activities, futsal has made us even closer with each other. Although tak sempat nak main sama2 masa tournament (coz I already pregnant at that time) tp every Friday kitaorang mmg main futsal suka2. I already missed her coz usually during weekend or when hubby's not around, I'll stay at her place and we went out for girls outing with others. Masa hantar dia kat airport I didn't cry coz I knew that she'll be coming back sometime later or we'll hang out in KL. Selalu suruh Farah put her hands on my tummy so that kulit baby mcm kulit dia.. hehehe..
And now with another 2 days of holidays, terpaksalah duk rumah or gi office buat keje.. huhu.. Farah dah balik and hubby kat offshore. Bdk2 lain pun ramai cuti balik kg.
Btw, time flies really fast! Its going to be our first anniversary next week!
Alhamdulillah.. still happily + blissfully married, with Ilham coming into our life in 4 months time, insyaAllah.