Salam.
I'm actually updating the blog from home, Seremban. Been busy since I got home from Kuantan, been sick since I attended too many weddings. Haha. I think I've been travelling too much non-stop for the past 2-3 weeks so badan pun dah penat. Cian baby. Initial plan tak nak cuti pun, straight lepas training terus balik KK. Then I changed my ticket to Friday last week, lepas akad nikah my cousin baru balik KK, coz hubby dah balik from offshore malam tu.
Then, suddenly my hubby kena witness a factory acceptance test in Kemaman today. So I changed my flight, again, to Wednesday, which is today.. balik sama dgn dia lah to KK. Pastu I got sick, fever, flu, cough since Sunday and sampai hari ni still ada skit2. Yesterday gi clinic buat kali kedua and amek MC for 2 days and I extended my stay in Seremban sampai Sunday ni. Huhu. Hubby pun sama. Coz Sabtu ni ada wedding kat tmn ni, my father and his friends masak beramai2. So dia mintak tolong hubby to stay, to help them nanti, lagipun ramai geng2 my father yg tak berapa sihat - kena Chikoniya ntah mcm mana nak eja.
Luckily my dept secretary ni very helpful, dia yg tolong tukarkan ticket everything. hehe. Thanks!!
Last Sunday was my cousin's wedding (lelaki) kat Seremban. Lepas wedding ni lah yg getting worst my flu & fever. Malam tu terus gi clinic. Risau jgk, coz time pregnant ni tak leh nak makan ubat suka2 jer. Kena advise from doctor.
Alamak, kena sambung later lah. Nak kuar jap.
[2]
Finally, baru dpt sambung update. I think its the internet, nak upload gambar kat photobucket slow pastu asyik failed jer.
Oklah, here are some pics masa my cousin's wedding.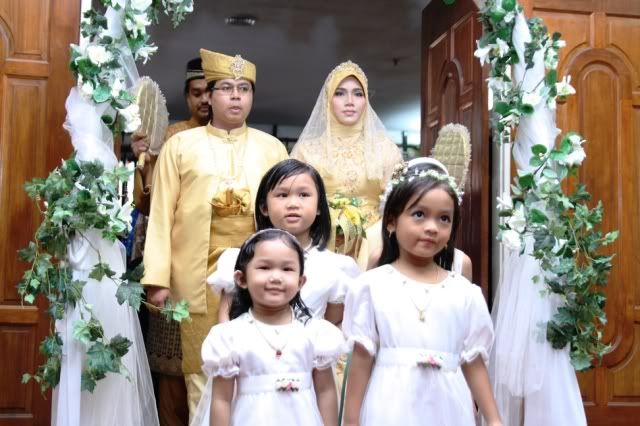 ~tgh2 makan pengantin dah datang, kelam kabut amek camera, tak sure nak pakai setting mana coz dalam dewan kan.. main belasah jer..hehe~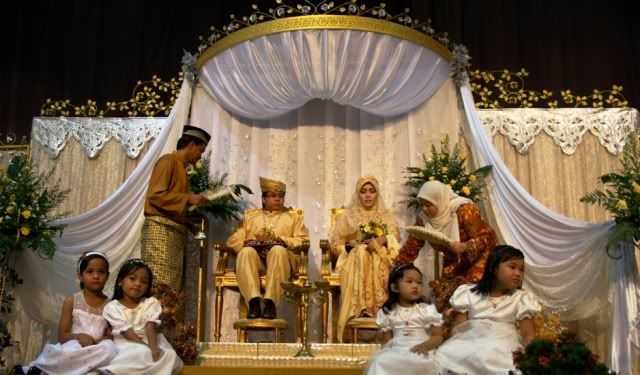 ~ yg flower girls tu semua cousin2 nyer anak2..~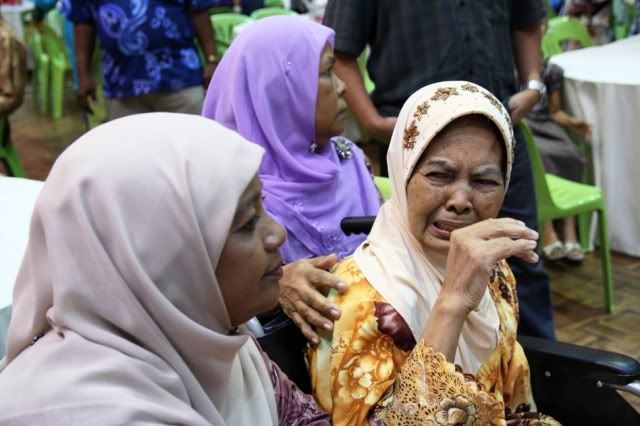 ~yg duduk kat wheelchair tu my mak long.. nangis dia tgk anak dia kat pelamin, dia lumpuh satu badan.. sian sgt2.. at first dulu while I was in UK dia operate brain tumor.. dah ok pastu dia cam ada memory loss sket and pastu lumpuh sikit2.. maybe ni side effect lah kot..~
~ pengantin nak turun makan..~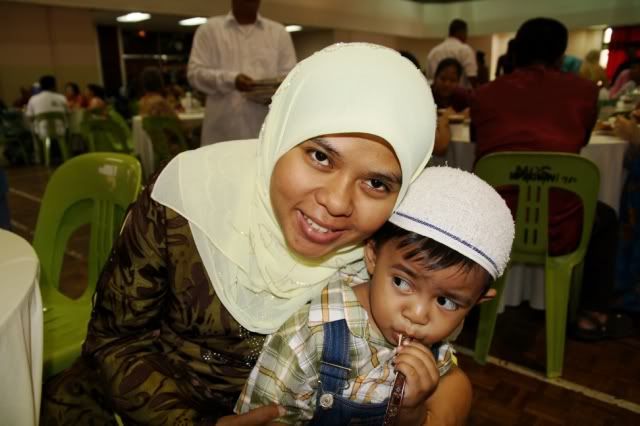 ~ me with anak buah,(my 2nd bro's nyer).. mmg sgt manja dgn aku.. tp malam nak tido ngan atuk dia jer..~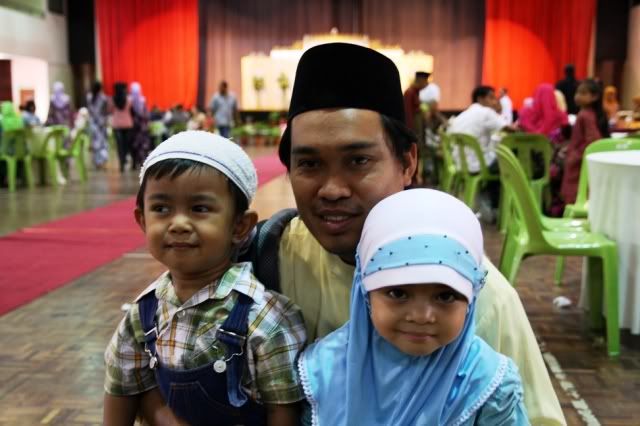 ~ Hubby with I'aan and Dhia (my 1st Bro nyer anak)..~
~ Ni adik si I'aan, Diyanah.. punyalah semangatt..geram betul tgk dia.. pastu aktif lak tu.. ~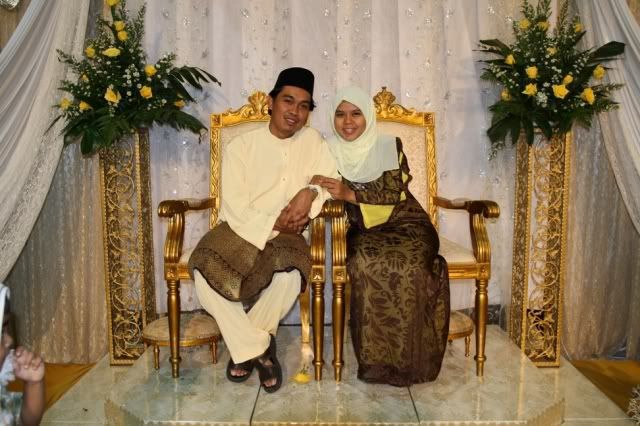 ~ Pengantin lama.. hehe.. selamba jer kitaorang naik atas pentas tu gi amek gambar time org tgh ramai lagi.. lantaklahhh.. hehe..~
~ My mom, hubby, my abg ngah and his wife.. time ni my father tgh sibuk melayan tetamu.. so malas nak kacau dia.. amek mana yg ada jer..~
~ Kitaorang lagi.. hehe.. tp muka aku cam blur2 sket, coz tgh sgt high time ni.. flu yg mmg to the max nyer tak leh tahan.. hidung habis kena sapu vicks..~
Habis lah citer kat dewan..dalam kul 2 camtu kitaorang dah balik dah.. coz ptg tu ada abah ada meeting ngan adik beradik2 dia kat rumah kitaorang.. actually pakcik aku yg nak buat annoucement pasal anak dia nak kahwin next year, InsyaAllah bulan Feb. Mmmg selalu camni, sapa2 nak kahwin mesti ada buat meeting.. hehe..
~ time ni tgh bercerita lah ni..actually ramai lagi, tp ada yg still ada kat dewan~
Masing2 terkejut.. yelah, pakcik aku kata dia igtkan aku ni dah kira kahwin jauh sgt lah, rupanya2 anak ppuan dia kahwin ngan org lagi jauh.. suspen aa semua org.. (tp family aku tak surprise pun pasal ayah aku org pertama yg tahu & dia dah informed kitaorang.. hehe)
Tp dah jodoh kan, nak buat camne.. dgn org Pakistan.. haiii..mmg ni kira first lah dalam keturunan belah ayah aku.. kahwin ngan org asing.. pastu mamat tu pakcik aku kata tak leh cakap melayu sepatah pun.. adoiii..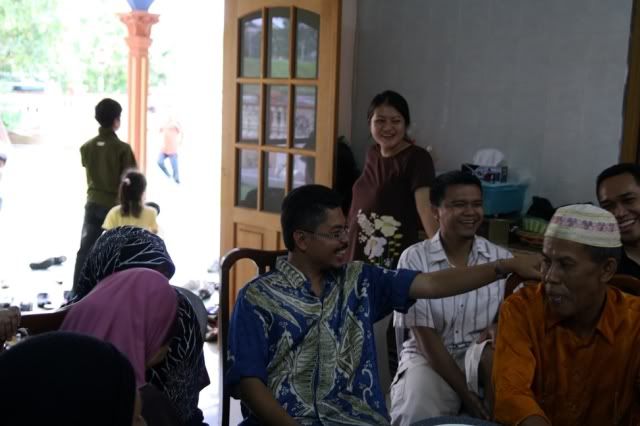 ~ time ni pakcik aku buat lawak.. tp tak igt lah apa.. so cousin2 gelak beria2..~
~tgh2 meeting kat dalam rumah tu, budak2 semua kena halau duduk luar..nasib baik tak hujan.. so yg lelaki main bola lah, tergolek sana, tergolek sini kat padang.. yg ppuan main gelongsor.. ni jer gambar yg sempat snap.. btw, yg depan sebelah kanan tu Nina, dah besar kan dia! masa kecik2 dulu manja sgt lah dgn aku..~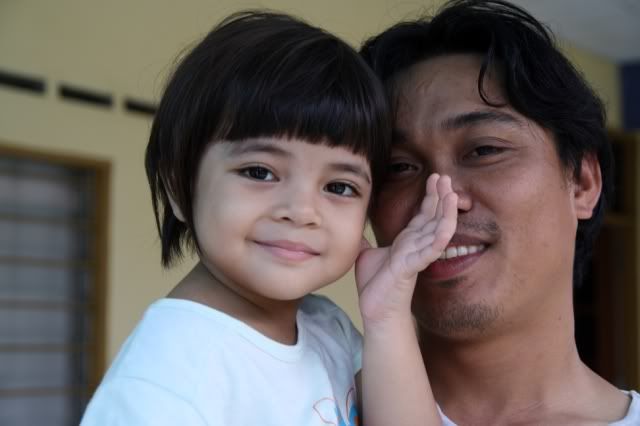 ~ Hubby ngan Dhia.. dia nak dukung kat husband aku jer.. nak mandi ke, nak pakai baju ke nak hubby pakaikan.. so first time lah hubby kena pakaikan pampers.. tp dia pakai terbalik..hehe.. lawak2.. takpe2..nanti dah ada baby senang..~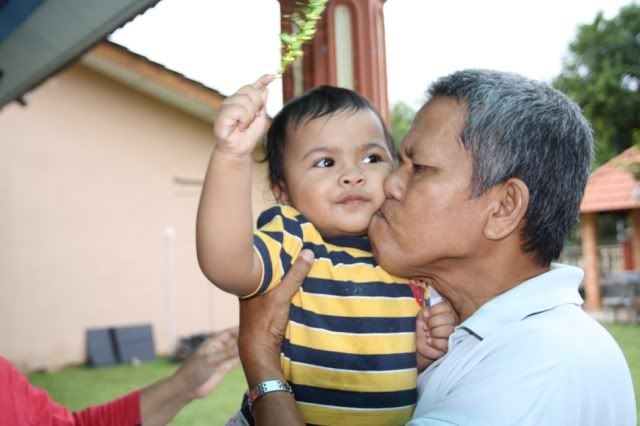 ~ Si tembam ni pun rapat ngan ayah aku.. time ni diaorang nak balik dah.. so biasalah.. ayah aku mesti nak sedih2 nyer.. haha..~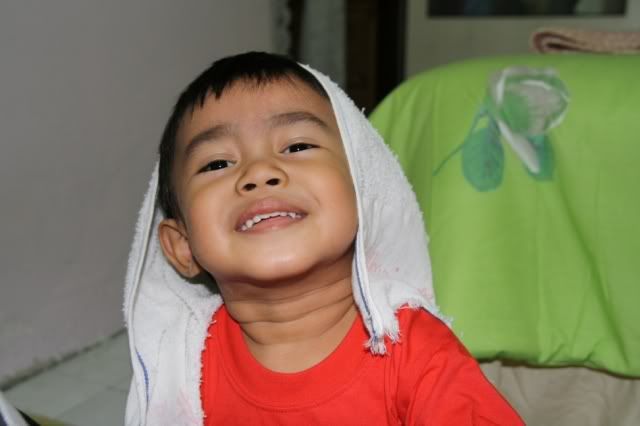 ~ Last but not least, I'aan again..~
Korang perasan tak gambar I'aan dari atas sampai bawah mesti ada towel good morning tu kat kepala dia.. haa.. ni gara2 tgk tv byk sgt lah. dia ada tgk citer Indon tu.. Ibu Ani ke apa ntah dia panggil towel tu.. coz dalam citer tu Ibu Ani tu pakai tudung jer all the time.. so budak kecik ni pun pergi mana2 nak pakai benda tu.. kalau amek kat kepala dia mesti dia marah.. haha
[3]
Esoknya tu raya Haji cam biasa jer.. hujan jer dari pagi sampai ke malam.. ayah aku and geng2 dia sembelih lembu 2 ekor.. so Hubby gi tolong, and for the first time dia join ibadat korban.. Me & my mom pun tak masak apa pun, buat pulut & sambal ikan bilis jer coz aku yg tgh demam selsema teruk, tekak pun sakit so takdelah nak makan beria sgt.. tido jer..
[4]
Wow..panjang giler entry kali ni.. klah.. will update later.. insyaAllah.. thank you for reading! :p
Tata!