Salam.
Huhu, I know I am supposed to share pics on Hana's wedding, but unfortunately I didnt bring any camera. So kena tunggu dpt email from tuan punya camera.
So for today, I have uploaded few pics during futsal tournament last Sunday. Our team, named Sasa Team emerged as champion for the ladies categories. Huhu. Geram & frust jer rasa tak leh nak join diaorang main. Kena sabar je lah kan. Although tak dpt main, tp gaya kena tetap ada lah.. kalau korang tgk my full attire masa mula2 dtg mmg gaya mcm pemain dah.. haha.. tp apapun, thanks to yg sudi nak sponsor jersey kitaorang.. hehe..
Here are the pics.
~Me & Alyza.. This was the first pic for the day~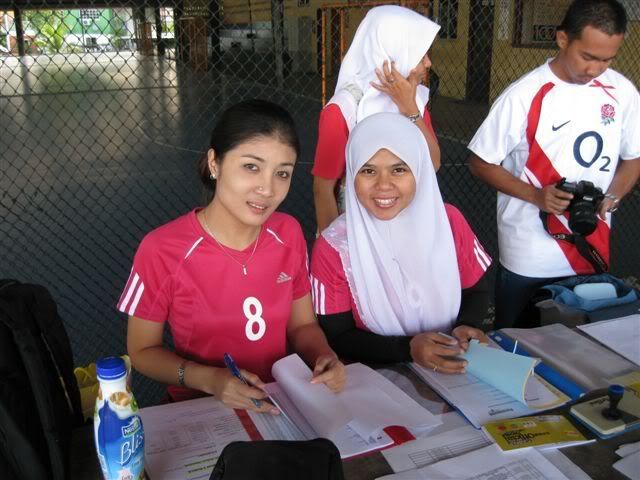 ~Me & Alyza.. I was the committee for that day. Alyza helping me out, thanks to her!~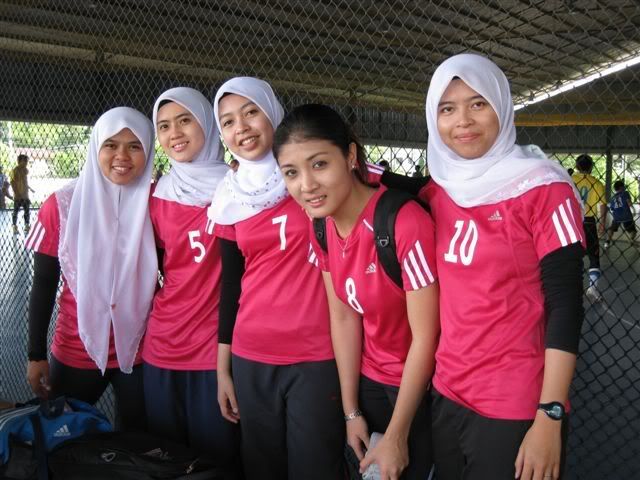 ~Ni before main..tgk muka masing2..cun jer lagi..haha~
~All of us! Front from left - salwa, haya, me, lisa, imelda. Back from left - Mas, our excellent goal keeper for the day, Pearl, Alyza and Farah (Farah is the one yg tgh buat attachment at our region)~
Btw, Farah is also surprisingly my 2nd cousin (her uncle married to my father's step sister).. anyway, kira related lah jgk tu kan.. mmg kelakar time kitaorang tahu tu.. haha. masa ofis tgh renovate tu our dept moved to Level 1, so she was sitting next to me.. time boring2 tu saja suruh dia tunjuk gambar family, so she shared gambar time raya.. then I saw a face cam familiar jer.. pastu selidik punya selidik rupanya kenal.. haha.. gelak giler2 kitaorang.. what a small world.. minah ni terror gak main futsal, gelecek2 bola ni boleh bagi kat dia.. tp bila main tu, tak kira lah time frenly or main saja2 mesti jatuh.. at least twice.. hehe.. kalau tak jatuh bukan Farah lah tu.. huhu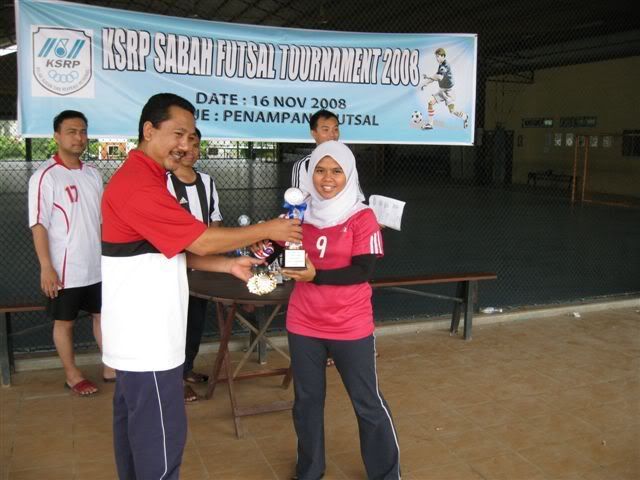 ~Adake diaorang ni saja sabotaj aku, time kena announce tu jalan ramai2.. alih2 time nak amik hadiah tgk sekor pun takde.. nyorok.. hampes tul... hehe.. akak jugak nak kena amek~
~Huhu, walked away with trophy and medals. No petrol voucher eh, too bad!~
~My hubby lepas one game ni.. baru keluar court dah kena amek gambar.. hehe~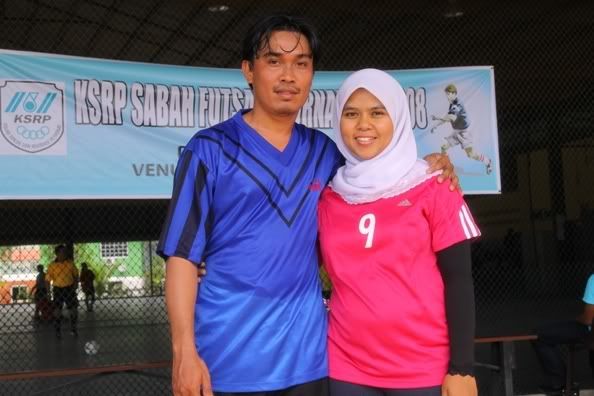 ~Me & my other half.. I looked big in this pic kan.. org selalu igt aku cam dah 5 months.. padahal baru 3 months.. could not imagine bila dah 8 - 9 months karang..~
My hubby was also playing for his team (platform). He played as keeper. Huhu.. ada sekali satu team ni main emo tul, dia dah tangkap bola tu pastu nak tendang2 lagi and siap terpijak lagi my hubby.. apalagi.. of course lah aku kat tepi court tu dah jerit2 dah.. hehe.. protective lah kunun.. itu action yg tak sengaja.. hehe..
~Kitarog lagi tp with my hubby sharing the joy.. tak kisahlah team dia kalah pun.. hehe~
So oklah.. that's all for now. I hope by next year dah leh join diaorang main.. hehe.. apa2 pun, kena tanya personal manager dulu.. huhu..
Tata! Have a nice weekend!