Salam.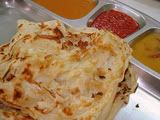 I got flu this morning. Igtkan ok bila sampai kat ofis, after having breakfast with my colleague at our usual cafe with roti canai + hot lemonade, its getting worse. So I went to clinic and amek MC.. sampai kat rumah terus tido tak igt punya.. coz pening sgt.
Anyway, I'm now officially transfered to a new department (maintenance dept), a position in Instrument & Control. Last month, kitaorang budak2 Instrument dah plan ramai2 nak gi offshore, to witness the commissioning of our new field. I'm actually excited to start all over again and I already have planned what subject I will cover every month, so that I could go for assessment in 3-4 years time. I know, it sounds ambitious, tp thinking that kena reset balik everything to zero, insyaAllah I will try to make that happen anyhow.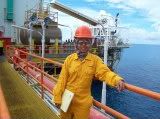 ~my first time at offshore, June 2006, where I met the love of my life..I looked slim kan.. haha..~
Haha, tp the moment I knew that I'm pregnant, the first thing that pops into my mind was all the career plan that I have made earlier. Its all happening at this moment of time, which made me think that maybe Allah nak uji kan. All this while, I'm so into my job even when my husband's around pun I still go to office during weekend just nak kejar dateline.
As a wife, mommy to-be & an engineer who deals with a lot of so-'efficient'-contractors, I'm not sure whether its going to be easy in future. Semalam pun I had discussion with my new boss, I got an interesting project, but too bad, its going to be at offshore. I didnt tell him I'm pregnant (maybe I could have onshore projects instead). I really miss going offshore, especially when now I'm in a new position and have lots of things to catch up, lagi2 plak dalam maintenance department which will require me to frequently be at sites. My original plan was to stay in my current department (reliability & integrity), tp tukar position jer. But too bad, position tu tak kena approve, so the only box yg ada is in maintenance dept. Coz kalau r&i byk buat study and taklah selalu sgt nak kena pergi offshore. Sesuai sgt untuk org mcm aku nih.. huhu..
But in the end, career won't end up anywhere kan. Yes, you will get higher pay, tp the most special gift on earth - having a baby and being a mommy & wife to a perfect guy is priceless. My husband, he knows how I feel and he keep telling me, ' You will survive and be a good engineer, mommy & wife'.

Tp I guess, now is the time to make a sacrifice, career or family. I still can be an engineer, tp takdelah workoholic sgt and as ambitious as before. I may sound sad kan, tp insyaAllah, Allah always have a better plan for us. Yang maybe kita tak nampak sekarang, tp wallahualam, in future.. who knows..
Wassalam.