Salam.
I'm sharing few pics here. Actually, I wished to write few entries before raya, just to share the raya preparation and how rajin my husband was. hehe.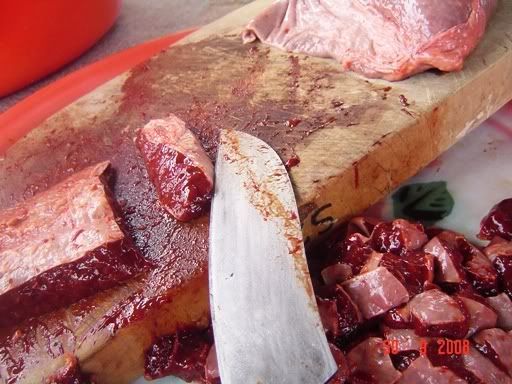 ~limpa~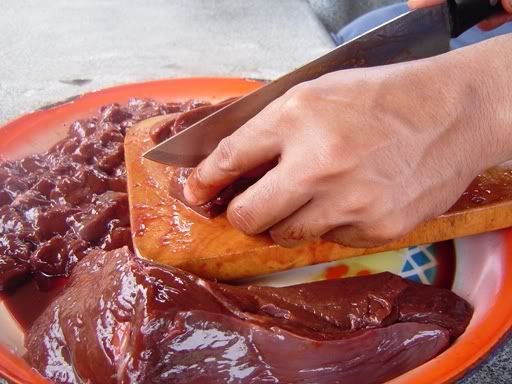 ~ hubby tgh potong hati ~
2 days before, he & my dad menyalai burung puyuh.. mmg every year kitaorang buat rendang burung puyuh + rendang daging.. best ooo.. cuba korang try.. boleh beli kat jusco jer burung puyuh tu.. kalau salai dulu, pastu buat masak lemak cili api or rendang lagi sodap..tp kesian dia, kena salai burung puyuh, tp dia tak makan pun burung puyuh. So I have to cook two types of rendang - ayam + burung puyuh.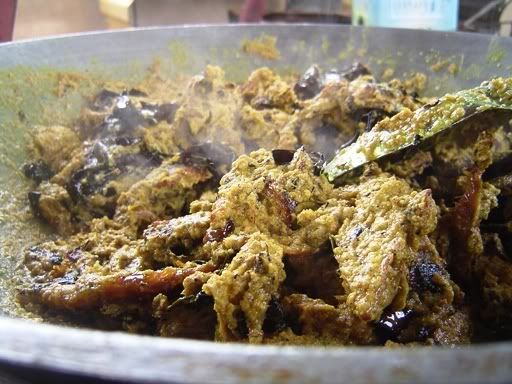 ~ rendang burung puyuh~
The day before raya tu myself, hubby & parents sibuk masak ketupat & rendang.. hubby was helping my dad siang daging, hati & limpa and amazingly menganyam 20 biji ketupat! huhu.. yess!! tak yah aku nak belajar lagi.. actually, I've tried to anyam before, tp cam tension sket.. manjang tak jadi jer.. so I quit.. now my hubby is the expert, so tak payahlah susah2 nak belajar..hehe.. my sister in laws pun kagum.. haha.. terus jadi comparison with all my brothers..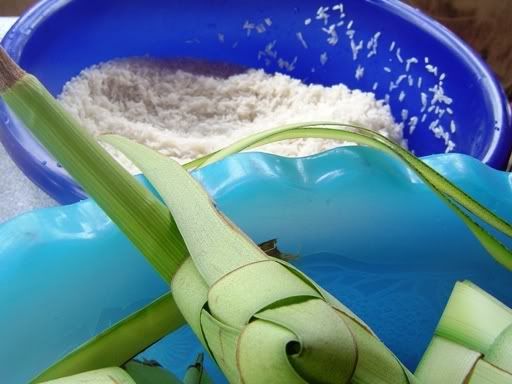 Raya was great, this year my eldest brother yg raya kt Somban dulu. Pagi raya tu kitaorang gi masjid, semayang raya.. as usual lah kan.. pastu my husband met his A-Level classmate kat cheras dulu masa kat masjid.. what a small world kan! that guy pulak was my x-bf bestfriend.. duhh.. org satu taman jugak.. member dia pun terkejut, he knew that hubby is a sabahan guy, tiba2 jumpa kat masjid kat tmn bkt chedang.. haha..
Anyways, its always a tradition, which I think is the most important part during hari raya.. mintak ampun & maaf with family members, expecially parents and of course my lovely guy.. byk jugak dosa nih.. hehe. especially melawan cakap.. biasalah degil sket.. and now while I'm pregnant, I will try my very best not to.. nanti anak pun terikut.. insyaAllah lah kan.. kuat jgk dugaan masa pregnant ni.. Allah jer yg tahu..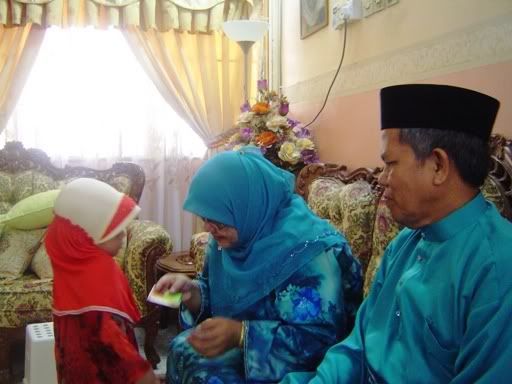 ~my niece (dhia alisya) tgh salam ngan atuk & wan dia..~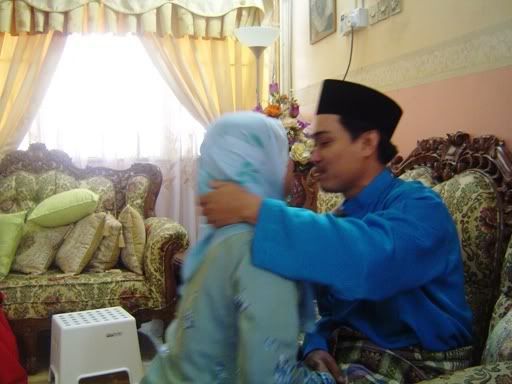 ~its my turn now!! uhuk-uhuk.. mintak ampun, mintak maaf byk2 yer cayang..~
~Us! first time raya as husband & wife.. insyaAllah next raya dgn new baby lagi.. ameen..~
Pagi raya tu pulak a bit cloudy, but I think it was a perfect weather for raya time.. ye lah.. dah berbaju melayu ngan samping.. baju kurung.. so taklah panas sgt.. tp time nak amik gambar kat luar rumah before balik kg (sri menanti), kitaorang amek gambar lagi.. I'm so sorry, I think I've lost my photography skill yg tak seberapa tu.. I even forgot how to use the function in the camera... huhu.. dah lama giler tak amek gambar.. ke nak kena tukar camera baru ek? dslr ke.. kena polish balik...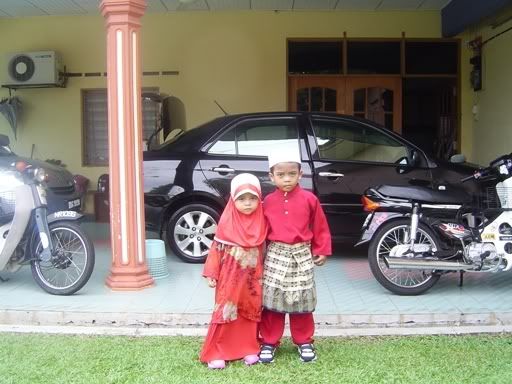 ~ dhia & isyraf.. diaorang ni mmg susah nak senyum sket amek gambar.. my 2nd brother nyer anak2 pulak terlebih2 sengeh time amek gambar.. too bad, I forgot to take their pic masa diaorang balik rumah raya ke-2 tu..~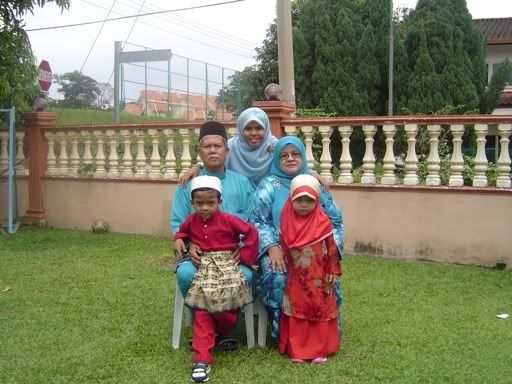 ~ Me & my favourites!!~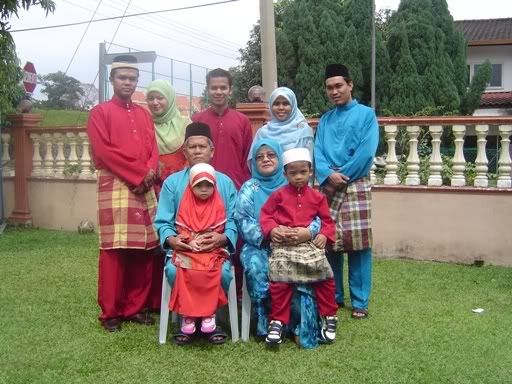 ~ The family, from left - along, kak aishah (SIL), ajet (my younger brother, I & my husband~
Sorry again, coz I dont have the pic in Sabah.. kat KK hujan lebat jer so tak sempat nak balik Sipitang..
Klah.. that's all for now. I'm all alone now.. Hubby is back to offshore..
Tata. Happy Eid Mubarak to all of you. Keep in touch, I shall update soon.