Salam.
(definitely quick one coz I got section meeting in 5 mins time!)
Its our 1st anniversary today! Alhamdulillah……
Look what I got for hubby.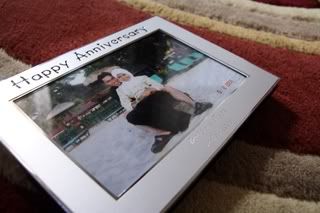 ~I know!! So lame kan.. hehe.. tp I think this our favourite photo so far.. masa honeymoon kat Langkawi..Can you see our names & today's date on the frame?~
~the cutest card I found..hehe~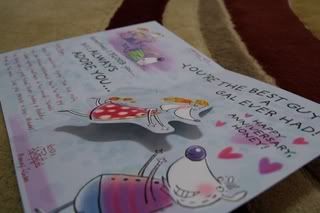 ~inside of the card~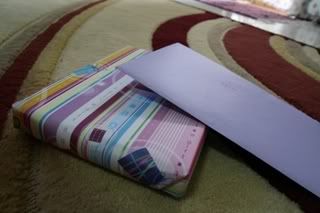 ~tadaaa.. the gift + card.. hmm.. this morning before I left for work, I placed the item on our bed.. like what he always dis.. :p~
I bought a frame and got it engraved specially for us. I was thinking to get him something that I knew he'd love and dream of but I know he would understand why I got him a cheaper one coz we are definitely going to be broke in few months time. Haha. Later I'll tell you why.
Anyway, I hope he will like it no matter how. He's coming back tomorrow. I can't believe that we have been married for a year! Time flies really fast, eh! The next thing you know is you're pregnant and holding a beautiful baby.
I'm grateful with what I have now, Alhamdulillah. My parents are still around to share all the exciting moment later, when Ilham is born into this world..insyaAllah. With the greatest guy, buddy, lover and hubby anyone could ever had in this world and my little baby (who becomes heavy n heavier each day and makes mommy looks big, fat but still cute.. hehe), I couldn't ask for more from Allah, the most merciful.
All I wish is a happy life, ever after dunia akhirat with hubby + our children. Aminn. .
Happy 1st Anniversary Cayang! I love you every day, and twice on Sunday!! Muahhss.