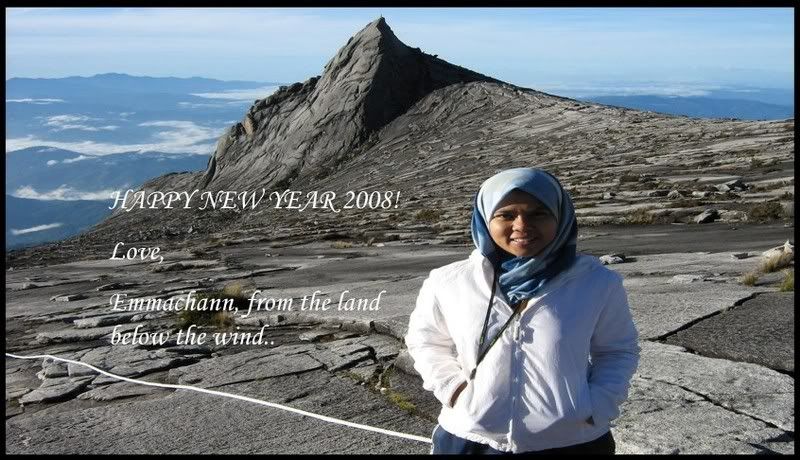 ~My biggesy achivement in 2007, conquered Mt Kinabalu!!~
Aha. Finally I can surf at home. Its very annoying when you have to pay for the service but you are not getting any of it. Only rich ppl do that.
Anyway, its been 3 days since December ended and I hope it is still not too late to wish you all a very Happy New Year! Many thanks for all the sms received during 2008's Eve.
Well, 2007 has finally gone and it makes me wonder of what I have achieved last year. Those things that happened which will never come back again and so we are only left with the memories and lessons. Just to share with you the last picture taken in 2007. hehe.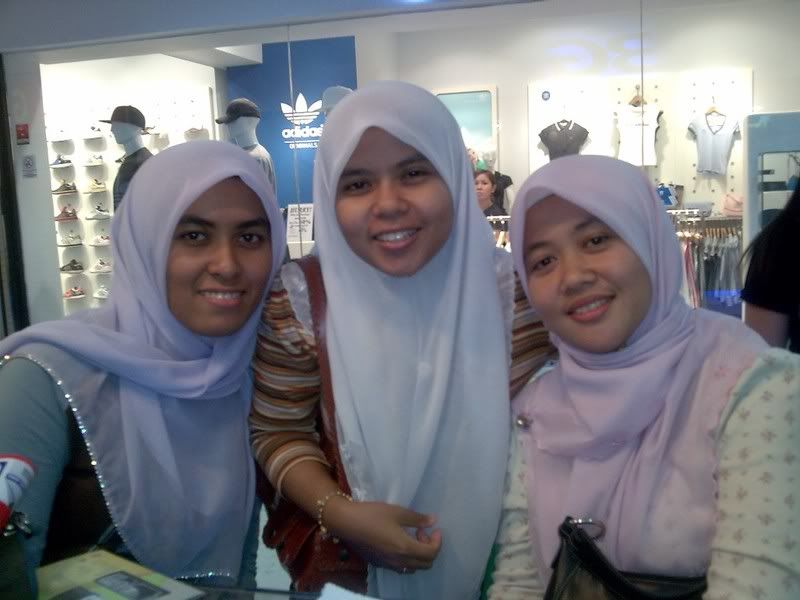 ~Shik, Me & Kujai~
That was us at a mobile shop in KK on last Saturday, Kujai bought a new phone for herself. Telephone tahun baru. Haha.
Anyway, just to list some or what had happen in 2007;
2006
1. I first started my career after completed my MEng at SapuraCrest Petroleum
(2006), as a Project Engineer. Made good friends and networking with a lot of ppl, very nice working environment and when I decided to leave them for Pett, I didnt feel happy at all.
2. Started playing futsal at Sapura with officemates. Somebody bought me a nice futsal shoes, nak bagi semangat lah konon.Our team was the champion in the tournament. Huhu.
3. Bought a new car. Huhu. My pride, my design.
2007
- lost my phone. I bought a new one. Half of my salary. Tutup mata jer bayar sebab sakit hati.
- lost my purse. This is the 4th time Ive lost my IC. Best kan! *grrr*
3. Handled first big project, stayed in a work barge. It was really an unforgettable experiences. I dont think I can get that anywhere else.
4. Travelled like mad. I guess my Enrich should have been upgraded to Silver by now.
5. Officially get over a guy. Sad it is, but I think it was a relief. I finally did that (I've been trying very hard since I was in UK, but didnt manage to)
6. Mr F proposed through the phone, when he went to my house to meet my family. (in front of them). He will always be my hero!
7. Conquered Mt Kinabalu, it was in end of December 06 tp I still considered it as the biggest achivement in 2007. Hehe
8. I got the chance to perform Sabah traditional dances, with all the complete costumes and accessories! It was awsome!!
9. Participated in Borneo Game. Main volleyball. Mcm tak caya kan. So not me main volley! But I got no choice, dah takde game lain.
10. Went to the tip of Borneo in Kudat. Cantik sgt.
11. Finally got engaged!! It was the happiest moment in my life and rasa macam dalam mimpi je.
Hmm..not too bad eh. Time flies really fast! I can't believe I'm turning to 28 this year. Last year was a bit dramatic for me. Apapun, Im thankful for all the things above although sometimes the world can be a really tough place and Im pretty sure that 2008 will be a challenging one. Here are some list and wish for 2008.
2008
1. White water rafting. I missed last year's session so no more excuses OK.
2. Join PHM. Forgot what it stands for but something to do with Health Management Program. Best tau. ada 3 sessions. All your calories, weight & etc will be monitored for 3 years.
3. Get married, insyaAllah. I will make an annoucement later k. ;)
4. Tukar my current position. I seriously hate my job.
5. Travel to overseas. Tak kisahlah mana2. Bali pun jadi.haha.
6. A trip to Pulau Redang perhaps, with my husband-to-be.
OK. That's enough for now.
May 2008 bring loads of happiness and rezeki and all that. Ameen. I always pray for your happiness, and I seek your forgiveness for all my wrongdoings.
Take care & be good.