Assalamualaikum..
ello..sempat lagi nak update blog ni before off to library..hehe..This could be the last entry before exam..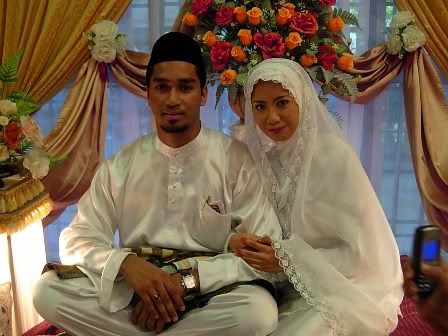 -ni lepas akad nikah-CONGRATS TO SHIK & FIRDAUS
..the newly wed couple, Alhamdulillah! Shik, you look gorgeous and Firdaus nampak gentlemen habis - as always..wish I was there untuk menyaksikan detik bersejarah ko Shik..hehe..
-shik close up..cun aa shik..nampak flawless!!tp bab lense tu takleh tipu aa..hehe-
-shik & firdaus, di hari persandingan..merah habiss...-
tp apa2pun Shik, jgn lupa apa yg aku email kat sizz tu..hahaha.. more pics boleh clik kat blog
HANA
CONGRATS jugak to Emran & Mira
- my never-met-virtual friend.. hehe.. and Mira pun sgt lawa kat gambar tu.. (psstt..tell me kat mana nak tempah baju ehh..hehe) Mira nyer gambar pun ada kat blog
HANA
Another
CONGRATS to Aini Awazah (my fren masa kat Teknik PD) & Mohd Khalil Azmi
..Thanks for you invitation card but sorry, I couldnt make it to ur wedding.. tp nanti aku kenduri ko jgn tak datang laks..hehe.- CR, cepat email kat aku gambar2 kahwin aini..;)
May all of you be showered with happiness.. Amenn.. And to all six of you (and anyone else who is married or getting married or contemplating the idea), people said that a marriage is a journey which should be treated with respect, and it is a lot of hard work.. it is about sharing and not about getting your way all the time..
Okok..gtg..I am happy for my friends!! Semoga korang berbahagia hingga ke anak cucu!!
~haii..since kat UK ni dah miss 5 kenduri kahwin my friend..best friends laks tu...korang2 yg nak kenduri boleh tak tunggu at least sampai aku balik dulu.. hehe..
P/s-lagu ni untuk Shik, Mira & Aini..;)