Hello everyone,
I know, this is kinda last minute but there are lots of things need to be done hence not time for blogging.
But anyway, I would like to post my invitation to all my beloved readers and I guess this will be my last entry before the big day! ;)
Cheers!
-----------------------------------------------------------------------------------
Salam & Good Day to all,
Alhamdulillah, praise to Allah SWT.
We are thrilled to inform you of our wedding to be held on Saturday, Feb 2, 2008 in Seremban (Bride's House)and Kota Kinabalu, Sabah (Groom's House). Therefore, we are happily inviting you to join our upcoming wedding reception:-
BRIDE'S
Date
Saturday, Feb 2, 2008
Venue
354, Jalan Kenanga 3, Taman Bukit Chedang,Seremban, N Sembilan
Time
12.00pm - 4.00pm
Contact Details
019-2704299 (Fizza's)
GROOM'S
Date
Saturday, Feb 16, 2008
Venue
Dewan Serbaguna Sri Mustika, Restoran Sri Mustika, Putatan, K Kinabalu
Time
11.00pm - 3.00pm
Contact Details
Freddie's handphone:014-8585549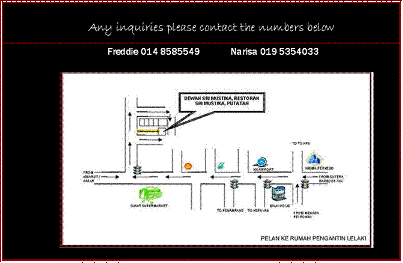 We look forward to seeing you in Seremban & KK! Please feel free to contact us with any questions or leave any comments and thoughts here. We'd love to hear from you.
Wassalam.
Love,
Fizza & Freddy
-------------------------------------------------------------------------------------